Water War Skirmishes
August 20, 2013
Despite the unusually wet summer that has filled reservoirs in Georgia and throughout the southeast, the famed tri-state water wars over the Apalachicola-Chattahoochee-Flint (ACF) and Alabama-Coosa-Tallapoosa (ACT) River basins have flared-up over the past few months.
In May, Alabama's and Florida's Senators made a legislative attempt to limit Georgia's water supply withdraws from Lakes Lanier (ACF) and Allatoona (ACT).  In July, Alabama Senator Jeff Sessions (R) pulled Corps and state environmental agency staff from Alabama, Florida and Georgia before a Senate committee.  And in late August, Florida's Gov. Rick Scott (R) lobbed a bomb-shell: he wants to take Georgia back into the court room.
All of these events have succeeded in rattling Georgia's cage – and hubris.
In May, the first signs of trouble emerged in the U.S. Senate during debate over passage of the Water Resources Development Act (WRDA).  The WRDA is an omnibus bill – a bill that authorizes (which is not the same as appropriating) federal spending on specific U.S. Army Corps of Engineers' water supply and public works projects like the Savannah Harbor's dredging.  In a bill like this, there is also room to tweak the Corps' other activities, responsibilities, mandates, etc.
Alabama's and Florida's Senators sought a provision in the WRDA that would have required Congressional approval of Georgia's water supply requests from Corps managed reservoirs.  By doing so, the Senators hoped to better manage downstream flows from Georgia into Alabama and Florida.  However, Georgia's Senators – Johnny Isakson (R) and the out-going Saxby Chambliss (R) – succeed in passing the bill out of the Senate without the provision.  The House Transportation and Infrastructure Committee is now poised to work-up their version of the WRDA, and a majority of Georgia's Congressmen have already vowed to protect their interests.
In July, Alabama's Senator Jeff Sessions (R) called a Public Works Committee hearing.  Sessions called the Corps to task and asked them to revisit the 11th Circuit Court's ruling.  In 2011, the Court determined the Corps misinterpreted their own authority to manage Lake Lanier and must reconsider Georgia's past requests to draw additional water directly from the artificial reservoir. (In 2012, the Corps provided their own analysis and response.)  During the hearing, state environmental agency officials from Alabama and Florida blamed Atlanta for taking too much water from the ACF and ACT basins.  Georgia's Environmental Protection Division director presented a laundry list of the state's initiatives – the State Water Plan, the Governor's Water Supply Program, new legislation – to substantiate his claims that Georgia is a good water neighbor.
Then last week saw a flurry of activity.  On Monday, the U.S. Commerce Department (National Oceanic and Atmospheric Administration) declared a fishery disaster for the Apalachicola Bay's already teetering oyster fishery, citing low flows of freshwater into the bay.  On Tuesday, Florida Senators Marco Rubio (R) and Bill Nelson (D) took part in a previously scheduled Senate Committee on Commerce, Science and Transportation field hearing in Apalachicola to hear from oystermen about the impact of drought.  On the same day, Gov. Scott announced that Florida intended to sue Georgia over low flows in the Apalachicola River.
Georgia's response?  Gov. Nathan Deal thinks Scott's legal threat is a re-election stunt.  Furthermore, Deal claims Georgia offered Florida a water sharing agreement a year ago but got no response.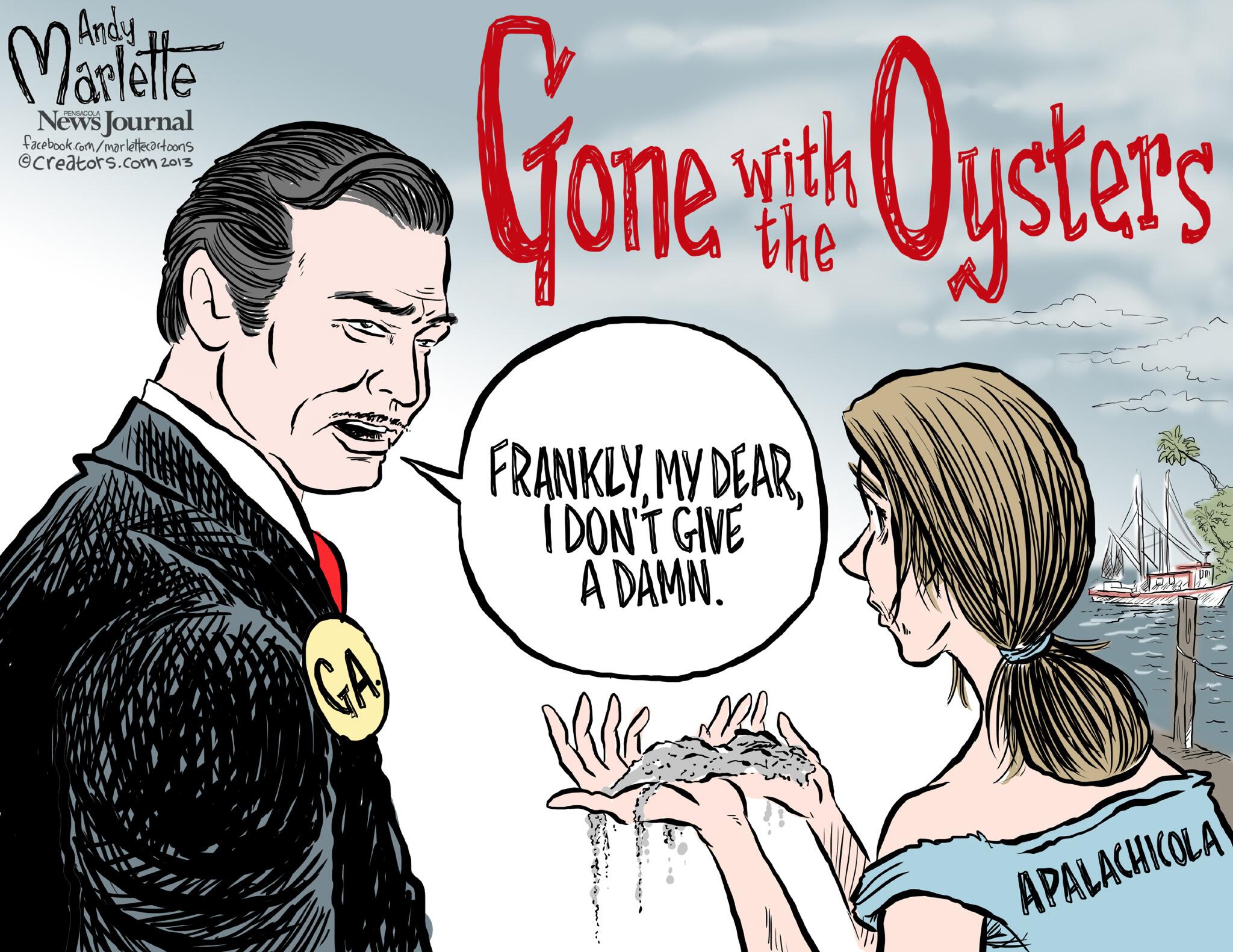 [Image credit: Andy Marlett]
Other Georgians – like those in Columbus – are not so sure.  We'd like to see that offer – and any other between the three states – but the tri-state negotiations have been legally shrouded since 2010.  Transparency – not secrecy – would benefit all the stakeholders and communities (and oysters) in the ACT and ACF water wars.
There has been no shortage of interpretation and media coverage of these recent flashpoints from Alabama's and Florida's vantage point:
Watery Foundation: "Meeting the Apalachicola to Death"
Florida Current: "Long battle likely if Florida takes water fight to U.S. Supreme Court, experts say"
AL.com op-ed, Mitch Reid: "Alabama needs a comprehensive water management plan now, not later"
Anniston Star editorial board: "Pouring it on — Thirsty Atlanta, Gulf Coast oysters and more water-war litigation"
Tampa Bay Times column: "It's No World for These Oysters"
-Chris Manganiello